The Performance

The Choreography explores the world through movement and examines how the way we move can affect what we think, see and feel. In The Choreography there is no wrong move you can make, everything turns out just right!
The Choreography is an interactive performance based on audience participation. Everyone in the audience gets a pair of headphones through which they will hear a voice telling them how to move, how to relate to one's body and how to relate to one another. In other words, there are no dancers or actors in the performance, but it is instead the audience itself which creates The Choreography together.
A performing arts experience in 18 languages
In The Choreography, each person in the audience can choose whether they want to experience the performance in Arabic, Dari, English, Farsi, Finnish, German, Kurdish (Sorani), Meänkieli, Northern Sami, Norwegian, Pashto, Romani (Arli), Russian, Turkish, Somali, Spanish, Southern Sami or Swedish.
The audience can listen to the same instructions and have a shared experience without understanding the same language. We hope that The Choreography can serve as an equal meeting place for people who don´t speak the same language.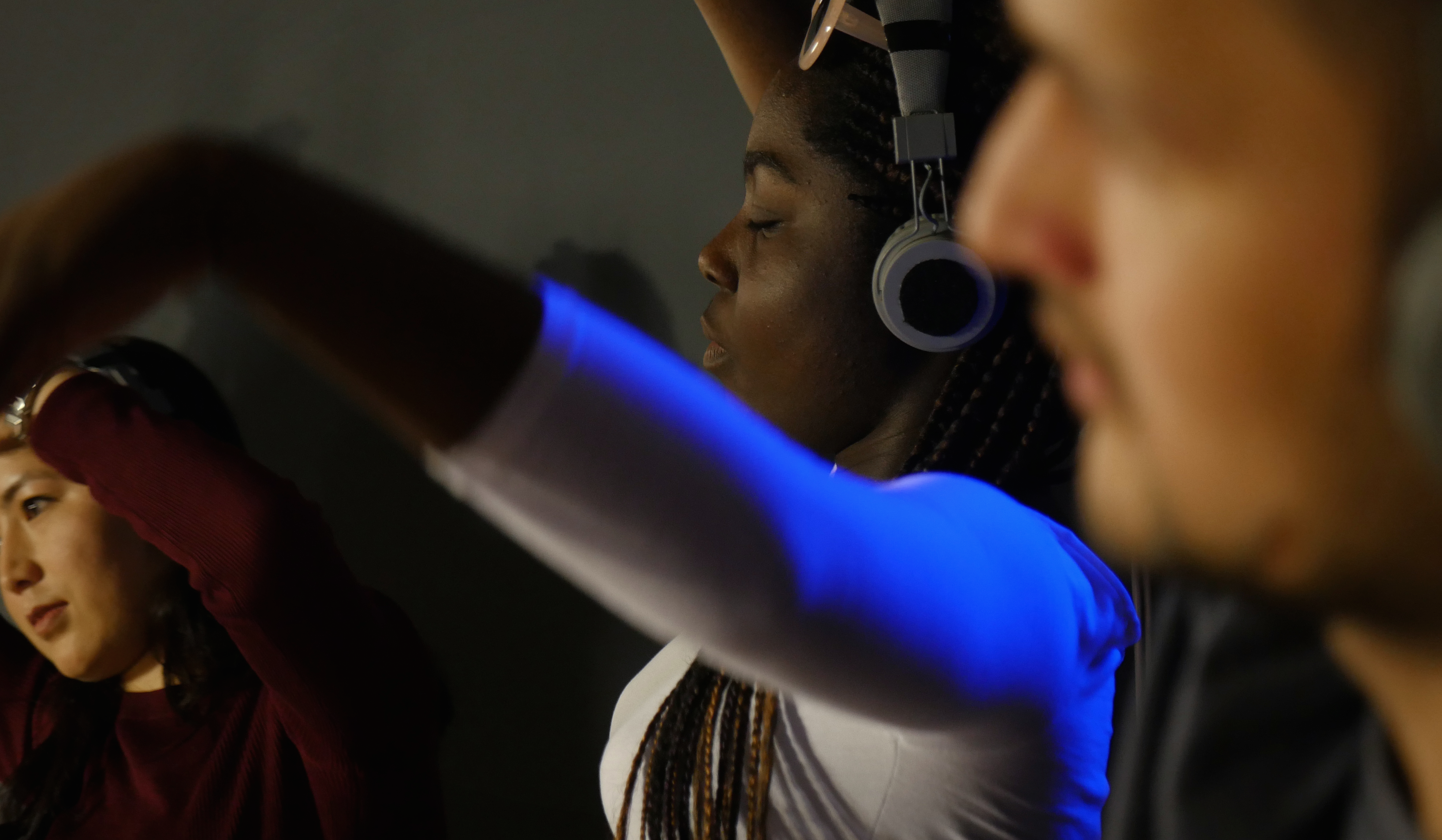 Information about the performance
Target group: Grades 4–9, upper secondary school, highschool. Family audiences suitable for ages seven and up.
Duration: about 60 minutes.
Audience: 16 people.
Technical specification: Link to information sheet
Concept and script: Anna Haglund, Annica Styrke, Johan Sundén and Karin Wiklund
Languages:
Arabic (translation and voice by Ahlam Pairdawood)
Dari (translation and voice by Karim Entezar)
English (translation by Anna Haglund and voice by Zoë Poluch)
Farsi (translation and voice by Lili Tafreshi)
Finnish (translation by Laura Koskela and voice by Eliisa Erävalo)
German (translation by Tanja Schmutte and voice by Frank Koenen)
Kurdish, sorani (translation and voice by Saman Hardi)
Meänkieli (translation by Bengt Pohjanen and voice by Linnea Huhta)
Northern Sami (translation by Anett Hotti Tuoremaa and voice by Tobias Poggats)
Norwegian (translation by Oda Brekke and voice by Alexandra Tveit)
Pashto (translation and voice Ahmad Nader)Romani (translation and voice by Mirsad Sahiti)
Russian (translation and voice by Alina Abdullayeva)
Somali (voice by Hibaq Mohamed)
Southern Sami (translation and voice by Johan Sandberg McGuinne)
Spanish (translation by Ika Yebenes Herce and voice by Joseph Vila Garcia)
Swedish (voice by Johan Sundén)
Turkish (translation and voice by Deniz Aydeniz)
Do you want to book The Choreography or learn more?
E-mail info@koreografin.se or phone 073-067 88 58.
Have a listen!
Click on the headphone to listen to a sample of The Choreography in English. To listen to the other languages, please choose language in the menu below.